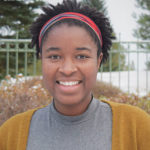 Mary Olukotun
Master's Student
University of Alberta
Abstract:
Community as Self-Care: Sisterhood is Self-Preservation for Black Women in Graduate Study

Late poet and womanist Audre Lorde is often remembered for her declaration of self-care as an act of self-preservation and political warfare. The self-care which Lorde enthused was intended to affirm her existence as a queer Black woman against the backdrop of racial, gender, and class prejudices amongst other injustices. She advocated for radical self-care in a world where Black women cope with the emotional, mental, and physical toll of navigating multiple, complex intersecting systems such as patriarchy and White supremacy. The need for self-care grows even more crucial when Black women in Western countries enter the predominantly White space of academia, an experience which can be socially alienating. Ultimately, the coalescing of systemic oppression and social alienation shape the trajectories of Black women enrolled in Western graduate study programs, necessitating the need to find solace in a community in order to mitigate the harm of this experience. Understanding how Black women construct supportive communities is critical in ensuring that institutions provide ample opportunities for them to find supportive spaces. To this end, this thought paper explores the topic of intentional community as self-care for black women in graduate study.