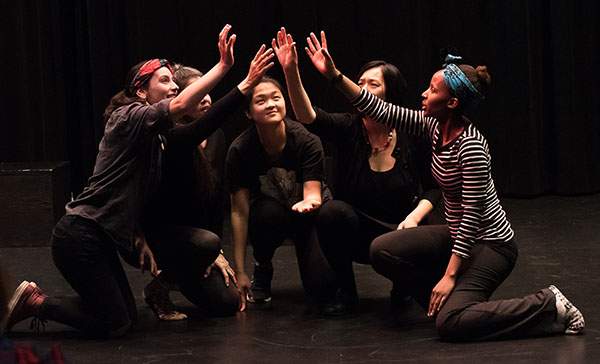 Thirdspace is a collective comprising of individuals from diverse ethno-cultural backgrounds. Thirdspace is committed to exploring the themes of intersecting identities through Playback Theatre in order to promote dialogue, community change, and social justice. Playback Theatre is a form of improvisational theatre that invites audience members to share stories from their lives, which actors reflect back using improvisation including movement, words, metaphor and music.
Lebogang Disele is a PhD student in the Drama Department. She is a member of Thirdspace Playback Theatre Edmonton. Lucy Lu (Artistic Director/Workshop Facilitator) is an art therapist, artist and has been practicing Playback for the past 10 years. Michelle J. Buckle (performer) is a registered psychologist and dramatherapist of Jamaican origin. Njoki Eunice Gatama (Performer) is a BFA Acting student at the University of Alberta. Mukonzi Musyoki (Performer) is a PhD student in the Drama Department at the University of Alberta.
To learn about Thirdspace Playback Theatre workshop on Playing Back Our Experiences, please click here.