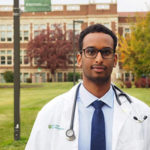 Yusuf Yousuf
Medical Student
University of Alberta
Abstract:
Addressing Racial Disparities in the Faculty of Medicine and Dentistry
The challenges of being Black in Canada permeate to many facets of life, including medicine. Like many other fields there are significant racial disparities within medicine. Black individuals make up approximately 6% of the Edmonton population but only represent 1.2% of students in the MD program. In fact, there is only one Black student in the Class of 2023. The MD program has a mandate of social accountability to the populations we serve, including representation from minority and marginalized communities. As physicians, we must be equipped with the knowledge and tools to advocate for our BIPOC patients and understand the intersection of social determinants with health outcomes. Through our Calls To Action last summer we proposed numerous changes to address racial disparities within the Faculty of Medicine. These proposals included collecting demographic and socioeconomic data on all applicants to identify underrepresented groups, broadening current curriculum to include disease presentation and nuances in BIPOC patients, and financially supporting BMSA initiatives aimed at raising awareness of health disparities in minority groups. While many of these proposed changes will take time to implement, we have already been able to make significant progress which I share during my presentation.