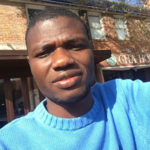 Olajide Salawu
Doctoral Student
University of Alberta
Abstract:
Racism with Small Kindness in post-Floyd America
In this presentation, I reflect on my personal experience to answer the question of racism as a black academic in post-George Floyd America. As an academic outside the categories of black American and African American, the racial experience in America is another fold of encounter that responds partly to how "blackness" is perceived in America, not only in the ubiquitous binary relation of white-on-black racism, but also in other layer of its subterranean structure. As I recount my American experience, I try to problematize the word "kindness" in a context of need when the pandemic toll spiralled morbid statistics and during the intense global political moment after the death of George Fylod. I interpret "kindness" from a personal angle wherein contact with generosity also yields simultaneously as contact with racism. I observe that most time in America racism runs invisibly in the artery of micro-moment which may forbid immediate consciousness, but a later recognition. I will start with the question my fellow Fulbright scholar (Moroccan), Houcien Abouazza, asked me in one of our random evening walks around Fayetteville State University Campus, North Carolina. He prodded, "Where is the racism, Jide?". I label this as "self-storying" in the experience of racism. Hence, I am compelled to relay racial experience non-fictionally in the moments of generosity during my fellowship year in America while casting an evaluative glance on these micro-scenes of racism.