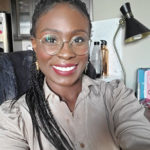 Evelyn Asiedu
Postdoc
University of Alberta
Abstract:
Continuing the conversation – "The Good and Bad of Black Grad"
This past summer, the reignition of the Black Lives Matter movement, expanded far beyond protests in the streets of American cities. The ripple effect initiated the #blackintheivory discussion describing how racism is present in a variety of institutions – including in the Academy. Here in Canada, Universities often claim to prioritize diversity and inclusion, however few Black people are found at post-secondaries. Until now, the exclusion, neglect, and mistreatment of Black people by colleagues and peers on campus has been largely anecdotal. The absence of race-based data has empowered the Canadian Academy to deny its own racism without consequence, while simultaneously undermining any calls to action expressed by racialized people. The events of 2020 have exposed and highlighted systemic racism worldwide, and Canadian Universities are not exempt.
Although the COVID-19 pandemic has presented many challenges, it has created unique opportunities to challenge the status quo. This year I will be producing an online webinar to interview Black graduate students and Faculty from across the country.
Objective:
At this moment, institutions are poised to assess their anti-racism strategies. As the infrastructure for the collection of quantitative data is slowly being established, the perspectives of Black community members can offer invaluable first-hand qualitative information.
Thus, the aim of this short series is to create a space which encourages Black academics to share their stories. These panel discussions will give a unique opportunity for students to have intimate conversations which will inform peers, policy makers, and prospective students.
Topics:
· Being 'the only one'
· Attracting Black talent and the value of representation
· Mental health and self-care…and more.